CHRIS FUNK'S MAGIC SHOWS
Witness the dynamic and engaging magic show that has entertained and amazed audiences across the country! "Redefining Wonder" is an engaging and visceral multimedia experience that will have audiences talking for years to come. The live-feed camera and interactive videos bring audiences up onstage and into the action, delivering a show that everyone can call his or her own.
Wonder can't simply be defined with words; it's a feeling that one defines in his or her own special way. Chris Funk has designed a show that truly encourages audience members to discover wonder while laughing all along the way.
"Redefining Wonder" includes borrowed objects, which disappear and re-appear in unusual places; a violin concerto playing as cards mysteriously float out of their deck; visual effects you'd only find in cartoons; and, of course, mysteries for the mind that will keep guests scratching their heads and wanting more. Plus, every performance features Chris Funk's signature Prediction, which ends off each show in true mind-blowing fashion. Laugh and "ooh" and "ahh" along with Chris as he blends his own unique style of witty humour and illusion into a show that Penn & Teller dubbed "Irresistible."
Chris Funk's magic show will be unlike any magic show you or your guests have ever seen! Perfect for After Dinner Entertainment, award Banquets Appreciation Events & Private Parties. It is engaging, captivating, hilarious, and will leave everyone thinking …
How'd He Do That?!
Check Chris Funk's Availability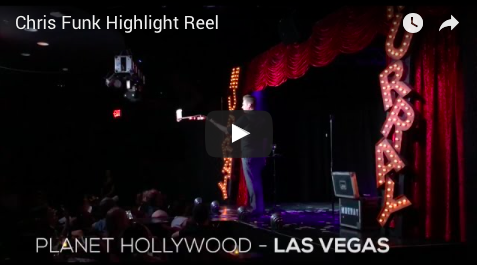 Corporate Magician Chris Funk
Corporate Magician Chris Funk has created a show that travels small and plays huge!  A full multimedia show that utilizes Interactive video, video background and live feed video to really bring the magic to everyone.  This is perfect for after dinner entertainment, private parties, corporate events, award banquets and so much more!  Don't hesitate.  Contact Chris today, after you watched this video, for availability and booking information.